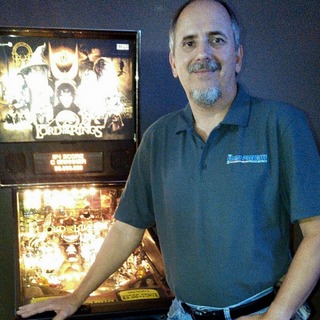 Rusty Key - Owner

I purchased my first coin operated machine, a Rock Ola 450 jukebox, sometime in 2006 and the restoration of that machine spurred a love affair with coin operated and arcade machines. I started with Pachinko machines but sometime in 2010 I purchased my first pinball machine, a Spectra IV by Valley. It wasn't long before I had amassed quite a few arcade machines, pinballs and even a full size skee ball machine. I combined my basic knowledge of electronics and computers with information I gathered through my new found friends in the arcade community, lots of YouTubevideos and reading materials. In 2015 I was layed off from an oil company during the oil slump and it was at time I decided to focus on making the arcade business my full time profession. My partners and I had started The Game Preserve in 2012 so by the time 2015 rolled around I had lots of experience with arcade machines so I officially opened up Key Arcades, LLC.

In 2019 the Game Preserve ownership made the decision to open a second location (NASA) in Webster, Texas and I suspended operations of Key Arcades at that time to focus on getting that location up and running. Just as the NASA location became self sufficient and I was considering restarting Key Arcade, the Covid-19 virus came to America. It was then required of me to remain focused on keeping The Game Preserve solvent. One of the cost saving measures we took was the relocation of the Office Warehouse which is shared by Key Arcades to our new facilities. The new location was a warehouse only, so the first 3 months at the new location was spent building out a good office/workshop where there would be room to work.

In December of 2020, I decided to restart Key Arcades. All in all I have 14 years of coin operated machine repair and have repaired machines from the 1950's all the way to modern times. My repair experience has been with video arcade machines, jukeboxes, pinball machines, slot machines and several types of other electro-mechanical machines. Early (pre-1978) electro-mechanical machines were my first love and therefore now my strongest capabilities. Solid state pinball machines (1977) came about around the same time as the Video Arcade machines were introduced and working with 100 plus of these machines over the last 14 years have given me the confidence and ability to undertake repairs of all types.

Located in Spring, Texas just off of I45 and close to The Woodlands location of The Game Preserve, the office/warehouse/workshop is easily accessible for thos wishing to save on the drive out cost of repairs and bring their machine to me. More information about the services and cost thereof can be found on the "Services" page.